Hybrid Hollies Flourishing in Butler Nursery
The Impact of a Nurseryman
Orlando S. Pride
Hybrid Hollies Flourishing in Butler Nursery
HYBRID AMERICAN HOLLY FLOURISH AT BUTLER NURSERY
Saturday, June 12, 1999
By Susan Banks, Post-Gazette Staff Writer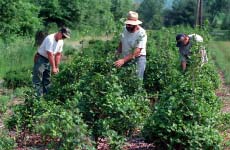 If things had gone according to plan Charles Hinchberger and Bob Yates wouldn't be in the nursery business. But fate has a funny way of determining these things, and both men, after careers in other fields, are back on the farm.
Amid 40 acres of fields in Butler County, they operate the Orlando S. Pride Nurseries. Hinchberger, who owns the place, is a soft-spoken man. He doesn't say much except to point out plant specimens he particularly likes or dislikes during a cool morning walk of the acreage. Hinchberger clearly knows what he's about, in that quiet authoritative way of someone who cares about his work but doesn't feel compelled to broadcast it. What he doesn't say speaks volumes.
Yates, meanwhile, is not afraid to crack wise with somebody he's never met. But he's still clearly happy out in the fields, too. Both men are a delight in their own distinct ways, but that's not unexpected, because they and their business come highly recommended. Peggy Rea, one of the most extraordinary gardeners I know, wrote me a couple of years ago and told me that I must visit this out-of-the-way place. It's taken two years, but I finally made it. And Peggy is right.
Hinchberger took over the old Orlando S. Pride Nurseries in 1987. The nursery was established in 1928 by Pride, who made a name for himself in the horticulture world by hybridizing holly. Sometimes called "Mr. Holly" Pride is credited with extending the northern-most range of holly or Ilex more than 500 miles by his judicious breeding program. Pride also dabbled with rhododendrons and many other types of plants. He owned and operated the nursery until his death at the age of 78 in 1983.
Hinchberger, who had known and worked for Pride while he was still in high school, felt strongly that the nursery name should stay in place to honor the great plantsman. and the nursery still specializes in the hollies that Pride worked on during his lifetime. Today, holly plants from the Butler fields are shipped all over the United States.
Yates joined the operation six years ago and works as nursery foreman. Hinchberger, Yates and one other employee run an operation that encompasses 40 acres at the nursery, and 23 acres elsewhere in the country.
Hinchberger says the nursery is primarily a production nursery where orders are custom-dug, but they do have a small retail operation offering a selection of perennials, trees and shrubs, especially the Holly (Ilex) "Grace" hybrids that Pride developed.
American Holly are popular now because these handsome plants are also deer-resistant, a big attraction in Allegheny County where the deer population has skyrocketed in recent years.
But the nursery carries other plants too, and customers are encouraged to walk around to see mature specimens of many types of trees and shrubs, most planted when Pride as still in charge.
Among the plants that the men encourage area homeowners to plant are the hollies, of course, Sweet Bay Magnolia (Magnolia virginiana); Bottlebrush buckeye (Aesculus parvifora); and Aesculus pavia or Red Buckeye, which matures into a ornamental-sized tree and has red blooms that are especially attractive to hummingbirds. They also like Oakleaf hydrangea, Viburnum 'Mohawk' — which has beautiful pink flowers and nice fall color, too — and White Fringetree (Chionanthus virginicus), which both men say are magnificent trees for this area.
Besides selling plants, the men are involved in testing many varieties, evaluating chamaecyparis, boxwoods, hemlocks and rhododendrons for size and winter hardiness. Hinchberger particularly likes green chamaecyparis because they never seem to have problems with insects or disease and are pretty good general-purpose plants.
Like Pride, Hinchberger also dabbles with rhododendrons. Pride had several hundred cultivars of rhododendrons on the property, and many are still there. While Pride bred plants primarily for flower color, Hinchberger puts emphasis on overall appearance, along with flowers.
Another plant both are extremely fond of are Japanese tree lilacs (Syringa reticulata). Hinchberger says they are wonderful plants because, unlike their native counterpart the common Syringa vulgaris, they don't need to be pruned, aren't bothered by borers and don't suffer from powdery mildew disease, which disfigures the leaves. They are carefree plants in the best sense, since they can be planted and left alone.
Since the nursery specializes in balled and burlapped specimens, customers may not be able to take home plants the same day they buy them. And if they purchase a holly, they'll have to wait until late summer, which is the best time to transplant this plant.
The Orlando S. Pride Nurseries are located at 145 Weckerly Road, off Route 8 north, before Butler. Retail hours are 8 a.m. to 4 p.m. Fridays and Saturdays. On Mondays through Thursdays, call for an appointment at 724-283-0962. The nursery is closed Sundays.

The Impact of a Nurseryman
Orlando S. Pride